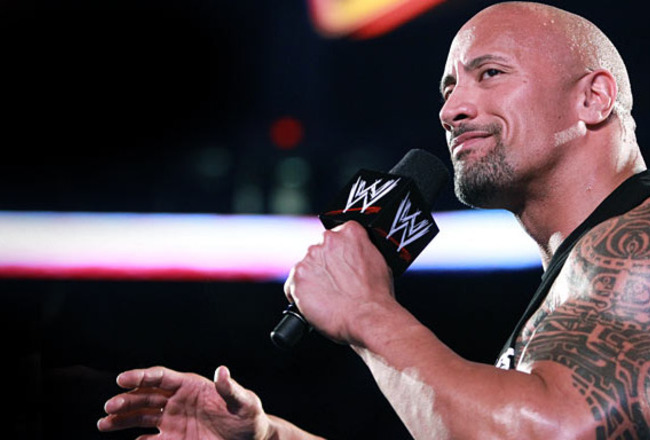 Assalamualaikum and a very good day to all Infinitesane visitors. It's a Sunday Sunnyday! well actually it's a title of a song sang by 20th Century, a sub-unit of V6. You can listen it here:
Alright, WrestleMania is just a few weeks from today. So let's talk about it. Last year a match has been booked for this year Wrestlemania. I don't know whether it's a good idea or not. Because we know that The Rock will not be there (WWE Shows) every week. So, maybe by booking the match a year earlier will help the fued to build up slowly so that people will get anticipated by the match.
(Baca lagi = Read more)

Honestly, personally I'm getting bored by this feud. The fued is not anymore a wrestling entertainment. Since The Rock coming back, He's only wrestle once in the Survivor Series. Other than that, he's just always appear via video or just come to RAW to just running his mouth for like 20 minutes and leave. I actually want to see a typical fued man... I want to see The Rock in action when he is on a match and then Cena will interfere the match and vice versa. Because of The Rock, John Cena is also not wrestle much anymore. Tomorrow is The Rock concert and John Cena rapping. I might get entertained. But it is quite dissapointed to me.

People watch WWE to see action. So, maybe The Rock lack of action make the younger generation of WWE Universe start to ignoring The Rock-Cena feud and move on to another fued. Based on here, the rating is dropped compare to what he did last year. Maybe the younger generation didn't know the awesomeness of The Rock. Actually The Rock has shown his awesomeness in the last Survivor Series, but maybe that's not enough to capture peoples' heart. The only good thing that he can do now is trending, just like what Cena said. I have to agree that what Cena said, even though I'm not his in-ring fan. I personally don't like Cena in-ring ability. I'm not entertained much by his performance. But at least he's wrestle.

One other thing that makes people debating each other is whether the mouth war is scripted or not. Actually this is good for the entertainment view. Because we know that WWE is a scripted show, but sometime the wrestler making up his points. So, sometime some spontaneous words come out and may hurt the other wrestler. This is what happen between The Rock and Cena. It all started when Cena appointed the wrist note on The Rock and maybe embarrassing The Rock. Whether they're really hate each other or not, it helps the feud to sell to people.

Before I leave, let's have a good laugh to this week "Santino Marella Foreign Exchange"



That's all for now, I'll talk about other thing next week in "The Road to WrestleMania".

See you later.

K-tea.